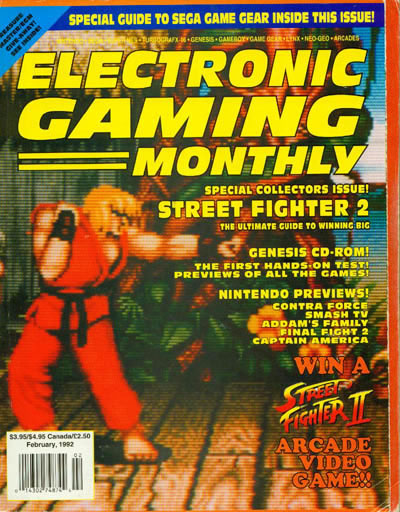 This sounds really bad but I didn't have very many dreams as a kid. Of course, being born to Filipino parents, I was always told to be either a doctor or a lawyer. I was never interested in either occupation.
But what I really wanted to do early on? I wanted to write about video games.
I'm not as caught up with today's video game world; I always seem to be a generation behind when it comes to that. But I always did love playing them. My first video game system was the Atari. I know Super Mario Bros. 1 through 3 like the back of my hand. In fact, I have a pretty good video game collection and if I wasn't writing about the NBA, I probably would be writing about video games. I just didn't think I would catch on with the NBA community.
Specifically, not only did I want to write about video games but, back then, I really wanted to write for then-supermag Electronic Gaming Monthly (EGM). Even more specifically, I longed to be part of EGM's Review Crew. I thought it was the coolest job in the world.
The Review Crew consisted of four people reviewing a game in one short paragraph. It was always my favorite part of EGM and looked forward to their ratings of the popular games (rated from 0-10 back then; the original format was always the best). The old crew was also very tough; they hardly gave a 10 on games. Later on, I was a little saddened when they started giving ratings in .5 increments and reduced the Review Crew to just three reviewers. They also started giving 10s a little more. So much for that tough love.
I had a taste of reviewing games (in longer form) with GameSpot (YES!!!). I'm not sure if they are still accepting reader reviews today but GameSpot, to my surprise, published my reviews after I turned in a few of them. Joe and Lauren Fielder, in particular (both might have worked for EGM in the past; I knew Joe Fielder did), took a liking to me. They even had me write a guest column about writing game reviews. I was very flattered and it gave me supreme confidence at 19.
I talked to Joe Fielder about EGM and he recommended that I E-Mail John Davison, who was their editor-in-chief at the time. Unfortunately, my sample reviews didn't impress Davison (even I remember thinking that the reviews I turned in weren't good enough) and he gently told me that they chose some other guys to be part of their Review Crew. I was crushed. Later on, I had found out that James Mielke (who was doing reader reviews for GameSpot as well) would get one of the spots for EGM. Mielke (nicknamed the Milkman) would go on to do 1UP.Com.
I temporarily gave up on the dream and decided to have fun with anime conventions instead. Of course, we all know what happened next. I ended up founding The No-Look Pass in 2008 and I've been a part of that writing community since. Now that I have built up a résumé on writing, I feel like I'm good enough to write about video games for a major website. I'd love to write about them sometime in the near future.
But would I give up writing about the NBA if I was offered a full-time job to write about video games? I'm not so sure. Maybe I can do both B-Ball and gaming.
Woof, baby.
dreamer,
R2