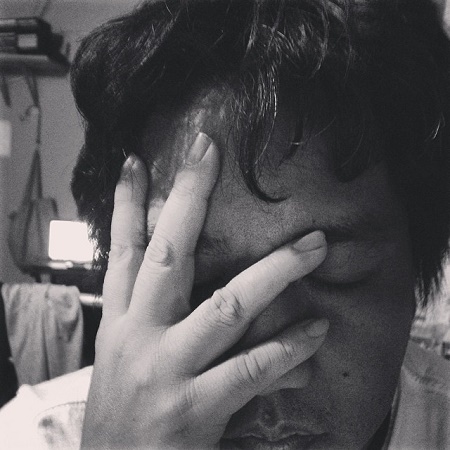 I'm going to continue to write about my progress until I feel like I can be myself again. That feels so far away at the moment. All week, my body has been tense and my heart feels like it's about to burst. Also, I've been hyperventilating and the nurse noticed it while we were going over treatment.
I received some excellent messages over the past few days and I can't thank enough all the people that have checked in on me. Sometimes, a "you can do it" or "you will get through this" text is enough to lift me up. I truly appreciate that.
One told me to take it "step by step." Another told me to take my time and not let fear take over me. And another told me that things will become normal over time. So I took all that in (along with a few other messages) and had this grand plan that I will try to get back to my routine.
We're supposed to be celebrating my dad and my brother's birthdays today. Mom then talked to me and mentioned how much I'm hyperventilating. Before I could even say something, she went on to say that the reason that's happening is because I'm fat.
Thanks, Mom.
I didn't react kindly to it. One of my insecurities as of late has been my weight, which was why I finally decided to do something about it. I had been exercising and working out in the last few weeks so I can finally look and feel healthy. The accident obviously interrupted it and, like I said, I had this plan on going back into working out.
Mom didn't take kindly to my reaction, either. She yelled out that I'm a crazy man.
I'm currently in my room writing about what just occurred. This is not the first time Mom has done this and this is her weird way of showing that she's concerned about me. I also don't think she realizes she knows what I'm going through. She probably thinks I can just brush off one "minor" car accident.
Again, my body has yet to relax since Tuesday. And my heart continues to race. I also have hypertension at the moment (which my nurse has been monitoring since Wednesday). She attributes it to the trauma and, of course, the extra weight I'm carrying. I also wish I could stop thinking about my near-death experiences in 2002 and 2004. I just can't help it right now, though.
This is such a hard battle right now. But the day is early and maybe my body and mind can function better later. If not, I'll just take what my high school counselor told me when I was depressed in 10th grade.
"Every day is a new day."
I hope that new day isn't far away.