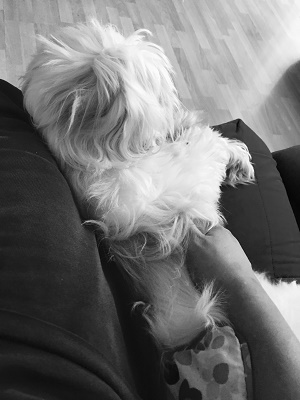 Right now, I'm just happy to be writing. I'm just happy to be… here.
I think that pretty much explains where my attitude is at.
Today was great because I didn't have to go to a clinic or a hospital. I do have to go back Tuesday because of more tests for my blood and my heart. I can't say I'm looking forward to this. I also now have to keep track of my blood pressure every day for the time being.
But I was glad to be not there today. I took a walk around town and, like I mentioned in that Instagram post, I'm appreciating all my surroundings. I was just fine relaxing with the dog and watching the WNBA Finals.
Good friend Darrel called me during the game, too, and it was so great to hear from him. He's definitely one of the great people in my life. He was the first one to call me after my accident and I very much appreciated his encouragement.
I was reminded by the good people on social media (yes, there are good people) that they are rooting for me to get better. It's really what I need whenever I feel like everything feels bleak. And trust me; it can get really tough on your psyche when the challenges of anything regular seem to overwhelm me.
This weekend, I have friends to chill with. They'll give me a good laugh and what I need the most right now is company and laughter. Just more steps to get closer to being me.
Let it flow. That's all I should do. Everything will fall into place.
I appreciate you all.
R2