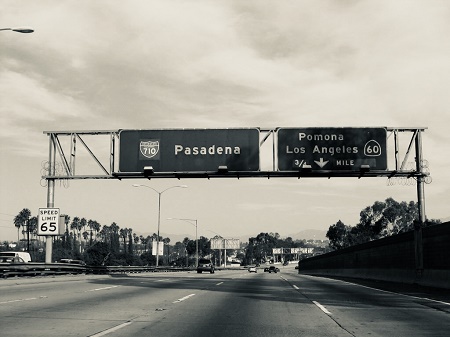 Last night's high school reunion was the happiest I had been in over a month. And quite frankly, this entry feels appropriate. I'll talk about how my reunion went tomorrow. But right now…
I am happy to be alive after I nearly died on this day 13 years ago.
I talk about it every year. 10-14 carries a lot of significance in my life. Some of you already know this but most of you don't.
10-14? October 14. October 14, 2004, to be exact. This is why my mind is so messed up about car accidents.
It started out as a fight with my then-girlfriend over the phone. So she told me that I should go over her apartment in Pasadena so we could hash things out. I took my dad's car since my own ride was being used by Pops himself.
On the way to Pasadena, I was thinking about how to quickly end my fight with the girlfriend. After I passed the 60 junction on the 710 freeway, I slowed down as I saw cars slow down in front of me.
Then suddenly, I heard a loud smashing sound directly behind me. In an instant, I was freaked out that I was hit. My car was suddenly headed towards the guardrail fast. It was the longest four seconds of my life. I thought I was gonna die.
But miraculously, the car turned. In the end, the car was facing the opposite way. It did a complete 180. Some passerbys stopped by to help me out. I was lucky to not be too hurt. I called my brother, Roger, about what happened. Meanwhile, the police arrested the guy that hit me. He was a 19-year-old that didn't have a license. And he actually TRIED to blame me for what happened. One of the cops that came then replied, "What are you doing driving without a license? And you're blaming the guy you hit, you dumbass?"
The car accident in 2004 put me in a downward spiral. My gf and I made up but then she broke up with me near the end of my recovery. I was doing physical therapy for six months. I didn't drive on the freeway for two months. To this day (even before the accident from last month), I have neck pain on and off (though manageable).
But this event, coupled with the "minor" car accident on September 5th, screwed up my brain when it comes to being on the road. Which is why I considered my drive to the high school reunion last night a big victory.
And to add how terrifying this day is for me? My brother and my nephew got in a car accident two years ago on this day. Yup. October 14, 2015. I told my brother that we probably shouldn't be on the road on October 14.
---
If anyone will not welcome you or listen to your words, leave that home or town and shake the dust off your feet. – Matthew 10:14
Another significance about 10-14? I moved to Portland in October of 2014. I only lived there for nearly a year but it was one of the best periods of my life. It was a life reset that I needed badly (I seriously wanted to leave Southern California for about a year at that point in time) and I felt so welcomed in that city. In a perfect situation, I wouldn't hesitate to move back there.
So yeah. I felt like I got a second chance in life after that huge car accident. And I experienced a rebirth of sorts when I moved to Portland.
All in all, I'm so thankful to still be here. Please never take life for granted.
I can't say enough on how much I love you people.
R2