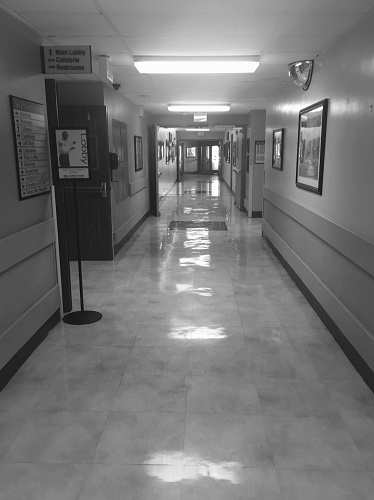 (Walking down these halls made me feel uneasy every time.)
I was extremely disappointed on the weekend of Feb. 16-18. I didn't get to attend NBA All-Star Weekend. While I still could've gone as "a fan", I was unsure of what to do when I get there. What? Say hi to a couple of random people and then leave? With no plan, I decided not to hit downtown Los Angeles unless someone called me up (nobody did and only a few people checked on me).
The gym made it easier for me to get over that. I'm just going to dust myself off and move on, right?
Then February 19 happened. I was called over to see my dad sprawled on the floor in his bedroom. My nephew and I tried to carry him to the bathroom but he was dead weight at that point. He was very weak and barely talking. Two of my other siblings arrived. With no choice, my brother called 9-1-1 and we were all off to the hospital.
We were at the hospital for nearly nine hours before we were told that there was an infection that got into his blood. I'll spare all the details (I can tell you privately if you don't already know) but, basically, his diabetes caused a TON of issues. Pops was awake on and off during that entire deal. Once he was in the ICU, he looked a little bit better but he was obviously a loooooong way to go.
I made the mistake of not eating the entire time I was there (I thought we would get some confirmation by dinner time and, with the cafeteria closed, I ate a granola bar from the vending machine). With friends reminding me to take care of myself (after all, I was near death myself last fall), I ate a quick late dinner when I finally got home and still went to the gym afterwards. I needed to be at my healthiest I possibly could be for this (and in general).
I visited him every day and made updates on my social media accounts about my Pops. He's stubborn so I had high hopes that he would pull through. As each day went by, he got stronger and was back in Full Dad mode pretty quickly. He was back to making comments about me not being married. He was even upset that The Price Is Right wasn't on when I reminded him that it's Saturday. (We ended up watching Mean Girls which was an adventure in itself.) Later that day, he was already taking steps without a walker. At that point, I thought he was back to normal.
By February 27 (Tuesday), he called me in the morning saying that he was "being released" and ready to go home. We got there and he changed into his regular clothes. But he neglected to tell us that he was scheduled for antibiotics around 6 PM (which was later moved up an hour after the nurses noticed him being antsy). He went home that night. He'll be surrounded by nurses every day to make sure he's okay.
As for me? The gym became my safe haven. It was stressful being inside a hospital considering I had been in that environment the entire fall.
It also reminded me of the important things. Sure, missing All-Star weekend at "my home city" sucked. But I'd miss EVERYTHING if I was dead. I can attend another All-Star weekend if I play my cards right. There was always another chance as long as I was breathing.
The last six months haven't been great. I had to deal with my own mortality. And then in the last two weeks, Pops had to deal with his own. Now it's March 2018 and we're both still here. I am so glad for that (especially for Dad since he isn't exactly young).
Now here's hoping for something good soon. REAL soon.
As always, thank you so much for sticking with me.
R2