Rey-Rey Is Fundamental #13: Tell Me A Punny Story (ft. Adam Jacobi)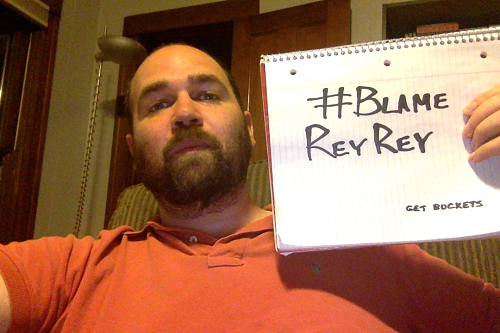 Welcome to the 13th episode of the Rey-Rey Is Fundamental (@ReyReyIsFun) podcast!
You people know me as an NBA Blogger (writer or whatever you like); I am the creator of The No-Look Pass. This show is for my interests, for whatever is hot, and for whatever is on my mind. We'll still talk some NBA because that's where my toast is buttered but this podcast will go over other topics as well.
Adam Jacobi (@adam_jacobi) of Black Heart Gold Pants stops by to talk some NBA before going to the nitty gritty of what's been going on Twitter as of late. Is Twitter still fun? Also, we go over the best and worst movies Adam has live-tweeted. And, of course, Adam has to tell me a few of his worst jokes ever.
Enjoy the show, ladies and gents.
SOUNDTRACK
Top Of The Stairs by Skee-Lo
How To Save A Life by Pau Gasol (originally by The Fray)
You're The Best Around by Joe Esposito
Wonder'bout by Hikaru Utada (instrumental)
PROMOS
Kristen Ledlow (@KristenLedlow) of NBA Inside Stuff
Adam Jacobi (@adam_jacobi) of Black Heart Gold Pants
Matthew Mercer (@MatthewMercer), voice actor
LOGO AND BANNER
Angelica Raquid (@magicmoment32)
You can subscribe to the podcast on iTunes!
Podcast: Play in new window | Download
Subscribe: Apple Podcasts | Android | RSS