Rey-Rey is Fundamental #19: Stay In School (ft. Zach Harper)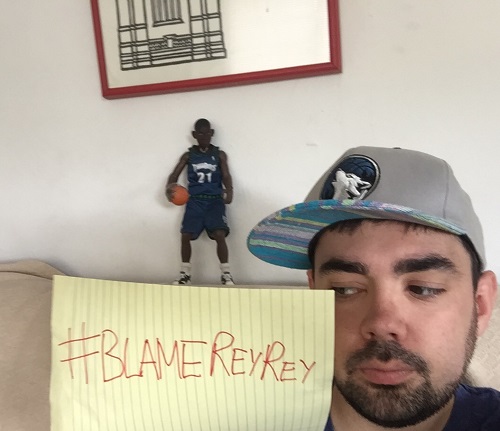 'Tis the 19th episode of the Rey-Rey Is Fundamental (@ReyReyIsFun) podcast!
You all know me as an NBA Blogger/writer (The No-Look Pass!) but I will cover a lot of things outside of that roundball rock in my podcast. A man has other interests, you know.
First off, my favorite storyteller, Adam Jacobi joins us from the second segment of this podcast (of course, he tells his usual story). Follow him on Twitter at @adam_jacobi and find his sports work at Black Heart Gold Pants.
Old friend Zach Harper (@talkhoops), who works at CBS Sports, stopped by as we ATTEMPTED to talk NBA Finals. That failed miserably so we opted to tell stories instead. Also… Zach, Adam, and I read a very, very sexy erotica novel by Farrah Abraham. You may know her from that MTV show, Teen Mom. Yes! She is a published author!
And starting in this episode, the Gal Pal Squad gets their own section! It is called Girl Talk With The Gal Pal Squad as I have, uh, girl talk with these ladies. We discuss my terrible dating life or whatever bothers me. In this one, Laura Walker (@stretchedoctave) from Clear Eyes, Full Shelves and Joanne Piston Fan (@JoannePistonFan) talk to me about how dorky I look in long johns.
Guys, are the long johns @TheNoLookPass is wearing look dorky? Yay or nay? pic.twitter.com/kuVh1TDjc0

— Laura (@StretchedOctave) May 23, 2015
We went over a LOT of things and it was hilarious throughout. I hope you enjoy this show like we all did!
SOUNDTRACK
Top Of The Stairs by Skee-Lo
Say You'll Be There by Spice Girls (instrumental)
Baby by Justin Bieber
You Got It (The Right Stuff) by New Kids On The Block
Moments In Love by Art Of Noise
Let's Get It Started by Black Eyed Peas
Happy Jingle by MC Serpnoid
Wonder'bout by Hikaru Utada (instrumental)
PROMOS
Glenn Moore (@GlennMooreCLE) of This Is Awesome Wrestling Show
Dave McMenamin (@mcten) of ESPN
Adam Jacobi (@adam_jacobi) of Black Heart Gold Pants
VOICEOVERS
Laura Walker (@stretchedoctave) from Clear Eyes, Full Shelves
Joanne Piston Fan (@JoannePistonFan)
LOGO AND BANNER
Angelica Raquid (@magicmoment32)
You can subscribe to the podcast on iTunes!
Listen here:
Podcast: Play in new window | Download
Subscribe: Apple Podcasts | Android | RSS