Rey-Rey Is Fundamental #25: Extra Large (ft. Robby Kalland)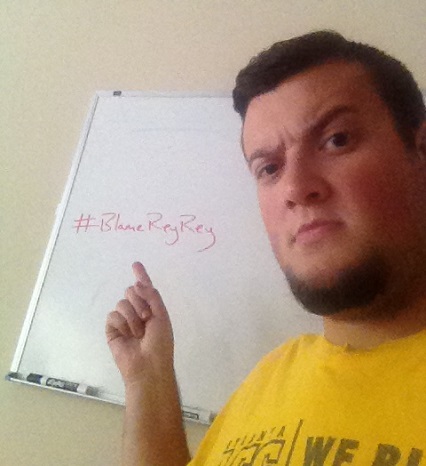 Whaddup, guysh? It's the 25th episode of the Rey-Rey Is Fundamental (@ReyReyIsFun) podcast, part of the Happy Hour Network.
You guys know me as an NBA blogger/writer (you know The No-Look Pass). There is a lot of NBA talk in this show but I also go over other interests myself or whatever is hot at the moment.
Robby Kalland (@RKalland) of CBSSports.Com stopped by to talk about the NBA Free Agency period and Women's World Cup. The DeAndre Jordan saga was starting in full swing around the time this podcast was being recorded so you'll get reactions from us about that. Also, Robby suggests I should watch Magic Mike XXL.
Our favorite storyteller, Adam Jacobi, joins us for the entire show and, yes, he did tell us a story. Follow him on Twitter at @adam_jacobi and find his sports work at Black Heart Gold Pants.
Earlier in the show, Laura Walker (@stretchedoctave) from Clear Eyes, Full Shelves and of the Gal Pal Squad talks to me about the giant sunglasses (picture above) that I had been wearing.
Thanks for listening to the show, people!
SOUNDTRACK
Top Of The Stairs by Skee-Lo
Summer Bunnies by R. Kelly and Aaliyah
Shut Up And Let Me Go by The Ting Tings
Trogdor by StrongBad
Happy Jingle by MC Serpnoid
Wonder'bout by Hikaru Utada (instrumental)
PROMOS
Gee Steelio (@GeeSteelio) of the Gee Steelio Sports Show
Kristen Ledlow (@kristenledlow) of NBA Inside Stuff
Shareef Jackson (@ShareefJackson), gamer
Rawan Eewshah (@rawan) of Buzzfeed Sports
VOICEOVERS
Laura Walker (@stretchedoctave) from Clear Eyes, Full Shelves
Joanne Piston Fan (@JoannePistonFan)
LOGO AND BANNER
Angelica Raquid (@magicmoment32)
You can subscribe to the podcast on iTunes!
LISTEN HERE:
Podcast: Play in new window | Download
Subscribe: Apple Podcasts | Android | RSS