Posted on October 17, 2015
Rey-Rey Is Fundamental #33: Manik At The Disco (ft. T.J. Perkins)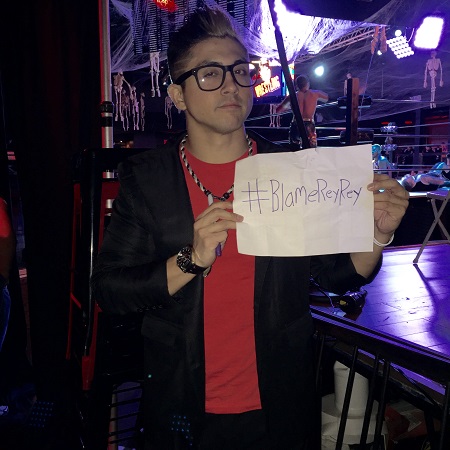 How's it goin'? We are at the 33rd episode of the Rey-Rey Is Fundamental (@ReyReyIsFun) podcast, part of the Happy Hour Network.
You guys know me as an NBA online writer (The No-Look Pass!). There is usually a lot of NBA talk but here, we give our takes on other sports and other interests that I have to keep it anything other than a one-dimensional pod. We like to keep it versatile!
T.J. Perkins, who is also known as Manik (@MaskaraManik/a>) from TNA Impact Wrestling, joins me and Adam Jacobi (@Adam_Jacobi) to talk a bit about wrestling. But we really went over the MLB Playoffs, Kobe Bryant, and the plight of Lamar Odom among other things.
Later on, E.J. Christian (@EJChristian7) from the Earnestly Speaking Podcast stops by to talk old-school stuffs with me. The subject matter? ARCHIE COMICS.
This podcast is SUPER LONG. It's almost as impressively huge as an Archie Double Digest.
Thanks for the listen, party people!
SOUNDTRACK
Top Of The Stairs by Skee-Lo
It's All The Way Live by Coolio
Don't Dream It's Over by Six Pence None The Richer
Aesha by Another Bad Creation
Stage 5 music from Toejam and Earl of Sega Genesis
Wonder'bout by Hikaru Utada (instrumental)
PROMOS
Zach Harper (@talkhoops) of CBS Sports
Dave McMenamin (@mcten) of ESPN
T.J. Perkins (@maskaramanik) of TNA Impact Wrestling
Shareef Jackson (@ShareefJackson), gamer
LOGO AND BANNER
Angelica Raquid (@magicmoment32)
You can subscribe to the podcast on iTunes!
LISTEN HERE:
Podcast: Play in new window | Download
Subscribe: Apple Podcasts | Android | RSS