Posted on February 11, 2016
Rey-Rey Is Fundamental #43: Leftovers (ft. Adam Jacobi)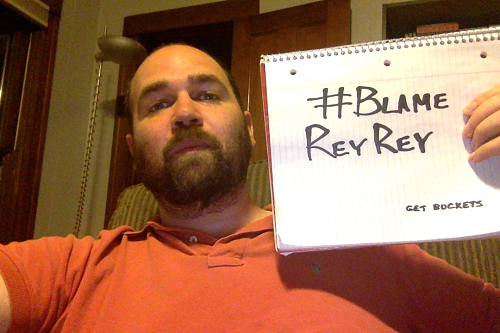 Welcome to the 43rd episode of the Rey-Rey Is Fundamental (@ReyReyIsFun) podcast!
You already know what you're going to get from this podcast. Lots of basketball and whatever else I want to throw in the mix like video games, other sports, anime, or just life in general. This is why this show is… fundamental.
Adam Jacobi (@adam_jacobi) of Black Heart Gold Pants takes the guest role for this as we wonder about the English language. Also, we talk about making noise in public when your body isn't super functional, the weird media/athlete postgame structure, Stephen Curry, Daniel Bryan, and erotica novels. We were definitely all over the place.
Enjoy the show, ladies and gents.
SOUNDTRACK
Top Of The Stairs by Skee-Lo
Wonder'bout by Hikaru Utada (instrumental)
Ram It by the Los Angeles Rams
Harden Soul by James Harden
The Final Countdown by Europe
PROMOS
Lana Berry (@Lana) of The Lana Berry Show
Shareef Jackson (@ShareefJackson), gamer
Rawan Eewshah (@rawan) of Buzzfeed Sports
LOGO AND BANNER
Angelica Raquid (@magicmoment32)
You can subscribe to the podcast on iTunes!
LISTEN HERE:
Podcast: Play in new window | Download
Subscribe: Apple Podcasts | Android | RSS