Rey-Rey Is Fundamental #47: Celebrity, Part 2 (ft. Adam Jacobi)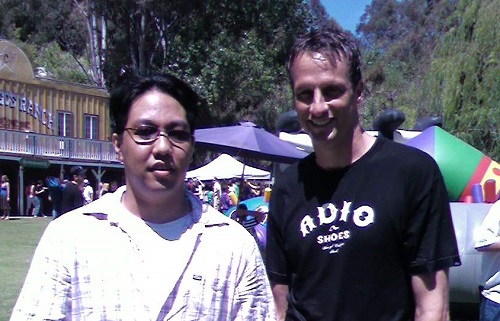 This is the 47th episode of the Rey-Rey Is Fundamental (@ReyReyIsFun) podcast, part of the Happy Hour Network.
You know what you're going to get from this show. Lots of NBA talk because I'm an NBA online writer and whatever else I want to throw in the mix like video games, other sports, anime, or just life in general. This is why this podcast is… fundamental.
Adam Jacobi (@adam_jacobi) and I continued to talk about celebrity encounters. We tell more stories about our encounters with the stars in the sports and the entertainment world. Also, we added a little twist as we talked TWITTER conversations with celebrities.
E.J. Christian (@EJChristian7) of the Earnestly Speaking Podcast and Hot Hot Hoops then talked to me for some little old-school. We talked about WrestleMania 7, which was pretty much Hulk Hogan's final extended run as the leader of Hulkamania.
And then Laura (@stretchedoctave) of the Gal Pal Squad had some GIRL TALK with me as we discussed whether we were still pretty much the same people from high school.
Thanks for listening, party people!
SOUNDTRACK
Top Of The Stairs by Skee-Lo
Who's The Boss? theme
Stage 5 music from Toejam and Earl of Sega Genesis
I Wanna Be A Hulkamaniac by Hulk Hogan
Say You'll Be There (Instrumental) by Spice Girls
Wonder'bout by Hikaru Utada (instrumental)
PROMOS
Lana Berry (@Lana) of The Lana Berry Show
Robert Littal (@BSO) of Black Sports Online
Rawan Eewshah (@rawan) of Complex Sports
VOICEOVERS
Laura Walker (@stretchedoctave) from Clear Eyes, Full Shelves
LOGO AND BANNER
Angelica Raquid (@magicmoment32)
You can subscribe to the podcast on iTunes!
LISTEN HERE:
Podcast: Play in new window | Download
Subscribe: Apple Podcasts | Android | RSS