Rey-Rey Is Fundamental #50: Silver Linings (ft. The Fun Group)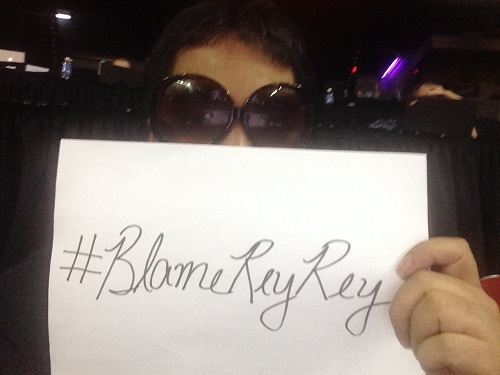 Happy 50th episode to the Rey-Rey Is Fundamental (@ReyReyIsFun) podcast, part of the Happy Hour Network.
You know what you're going to get from this show. Lots of NBA talk because I'm an NBA online writer and whatever else I want to throw in the mix like video games, other sports, anime, or just life in general. This is why this podcast is… fundamental.
From now on, I will refer to everyone involved with the show as The Fun Group.
First off, Adam Jacobi (@Adam_Jacobi) joins me to talk Warriors/Spurs as well as the breakdown of the Sixers' "process". We had very strong opinions about that.
After that, it's a double dose of Girl Talk With The Gal Pal Squad. I basically shared individual stories with Joanne (@JoannePistonFan) and (a first-timer on the show) Sambot (@sambot5k). I talked about why I get into these "interesting situations" with women. I assure you that I'm not a complete failure when it comes to talking to women.
In between Girl Talk stories, I kicked it old-school with E.J. Christian (@EJChristian7) of the Earnestly Speaking Podcast and Hot Hot Hoops as we talked CELEBRITY CRUSHES.
Finally, maybe it's for one time only but Adam brought back Story Time With Adam Jacobi for this special 50th episode.
Thanks for listening!
SOUNDTRACK
Top Of The Stairs by Skee-Lo
Roundball Rock by John Tesh
Say You'll Be There (Instrumental) by Spice Girls
Coors Light Twins Theme by FCB Chicago
Stage 5 music from Toejam and Earl of Sega Genesis
Happy Jingle by MC Serpnoid
PROMOS
Lana Berry (@Lana) of The Lana Berry Show
Robert Littal (@BSO) of Black Sports Online
E.J. Christian (@EJChristian7) of the Earnestly Speaking Podcast and Hot Hot Hoops
Zach Harper (@talkhoops) of CBS Sports
VOICEOVERS
Laura Walker (@stretchedoctave) from Clear Eyes, Full Shelves
Joanne Piston Fan (@JoannePistonFan)
LOGO AND BANNER
Angelica Raquid (@magicmoment32)
You can subscribe to the podcast on iTunes!
LISTEN HERE:
Podcast: Play in new window | Download
Subscribe: Apple Podcasts | Android | RSS