Posted on September 2, 2016
Rey-Rey Is Fundamental #59: Stand Up (ft. Robert Littal)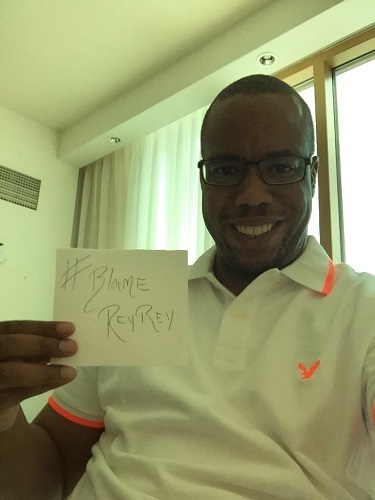 Yo! This is the 59th episode of the Rey-Rey Is Fundamental (@ReyReyIsFun) podcast, part of the Happy Hour Network.
This pod usually has lots of NBA talk because I'm an NBA online writer (The No-Look Pass!). But really, we get into whatever we like whether it's other sports, video games, anime, pop culture, social issues, life in general because this podcast is… fundamental.
Robert Littal (@BSO), the creator of Black Sports Online returns to the show. We talked about the Colin Kaepernick… controversy, if you will. Also, since we're both wrestling fans, we talked about where the WWE was going, especially after the Kevin Owens WWE Universal title win.
After that, Adam Reisinger (@AdamReisinger) and I talked about (I guess, you can call it a guilty pleasure) the show, Pretty Little Liars. We talked about how a show which is pretty much DISGUISED as a teen drama, got us watching for so long. We recorded this segment a few months before and the show will end next spring. But, hey, the show kept us entranced for years.
Also, if you can take some time to check out Go Iowa Awesome as they partner once again with Iowa Touchdowns for Kids. This is a fundraising campaign that encourages Hawkeye fans to pledge whatever amount of money you want per touchdown scored by the University of Iowa during the regular season. So it would be great if you can donate. Thank you!
Thanks for the listen, guysh.
SOUNDTRACK
Top Of The Stairs by Skee-Lo
Wonder'bout by Hikaru Utada (instrumental)
God Bless The U.S.A. clip from 500 Days of Summer
I Won't Do What You Tell Me, Stone Cold Steve Austin's theme
Secret by The Pierces
PROMOS
Robert Littal (@BSO) of Black Sports Online
Anthony Irwin (@AnthonyIrwinLA) of Lakers Outsiders.
Glenn Moore (@GlennMooreCLE) of This Is Awesome Wrestling Show
LOGO AND BANNER
Angelica Raquid (@magicmoment32)
You can subscribe to the podcast on iTunes!
LISTEN HERE:
Podcast: Play in new window | Download
Subscribe: Apple Podcasts | Android | RSS