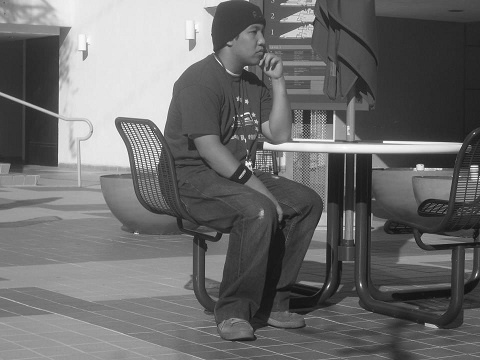 A bit more stressed with all the… I'll call them outside forces that have to do with the accident. I kind of don't need this right now. Still tense. It's hard to shake it.
Other than the third day in a row of meditating (whaddup, Headspace), today hasn't been as productive. I did pump my basketball and did a little dribbling. I contemplated taking a walk to the park (the nearest one is like a mile away) but decided against it. I definitely wanted to put the ball in a hoop but there was no way I could run, especially with my back, knee, and shoulder pain.
You know, basketball has always been there for me. Without fail. It's given me a bit of a career writing about it. When I was more or less bullied in my junior high years, I more than evened the score by schooling those same kids in shootyhoops. I was in a dark place in late 2011 to early 2012 when Linsanity hit. Being an Asian hoops writer, I was kept busy with interviews from podcasts and radio stations.
I just wish I could play it right now. But I think writing about it will help me get back to my normal. That's why it was perfect for me to write (which I love to do) about basketball (a game I have loved forever). Just talking about it is giving me this surge of energy.
But ya know, I also made the decision to continue dropping some friends. I'll just say that these people have given me a negative vibe and just like I've done over the past decade or so, I will continue to let go of people who bring me down.
I looked back at what happened after the accident in 2004. It seemed a little easier to heal because I had a girlfriend at the time. She made it so much easier for me to recover by being there every day. Whether she was taking care of me or she was calling me before I went to sleep, she made my existence worthwhile.
I want my existence to feel worthwhile. I know basketball helps me in that. But sometimes, I do want the positive people to make me feel worthwhile. Not only because I write about hoops. But because I am me and that they care for my well-being.
Well, that was all over the place. At some point, I'll make it out of this. I have to.